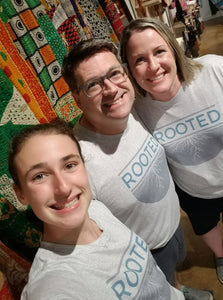 Our Story
We are the Cook/Weiss-Cook family, Laurie, Kevin and Audrey, the owners of ROOTED.
We have been fair trade shoppers for many years are excited to share the stories of our products and the people who make and grow them with you. ROOTED gives us the opportunity as a family to live out our values.
The products sold in our store are rooted in the lives and communities of origin and the process of getting these products to you focuses on equity, sustainability, fairness and capacity building.